Here are some of the people that have helped bring Ballin Temple back to life. Thanks to all of them.

Szymon, Lucasz, Gosia
Three friends who made a wonderful contribution during the summer of 2004. Szymon, Lucasz and Gosia spent several months working at BT helping to maintain grounds and rebuild the garden. At the end of the summer they moved on to jobs locally. Many thanks for their great efforts.

Gustaaf
Gustaaf brought passion, skill and experience to our gardening activties. With particular expertise in horticulture (hardy perennial) and biodynamic methods, we learned alot from this modest gentlemen who has given us great pleasure as he rebuilt the kitchen garden.
He now maintains pleasure gardens for the Belgian royal family!
Tony
With over 20 years experience on this stretch of the Slaney Tony is an invaluable guide to the angler new to BT - and those familiar with our waters can often learn from him too. Here he is with a 30 lb cock salmon found wounded in waters near Enniscorthy.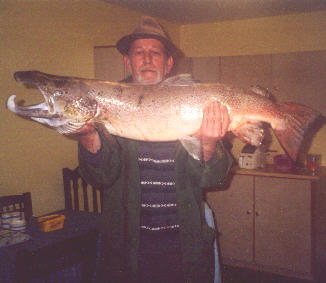 Robin
Does a wonderful job managing the banks of the river and looking after anglers.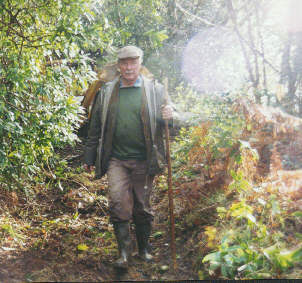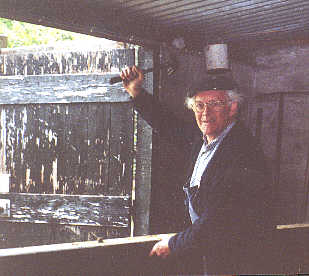 Tom
Tom has been helping in the garden since the mid 1990's. Trained as a builder, Tom has picked up gardening techniques in the last couple of decades. He is particularly good at low energy techniques - he built a new fruit cage using timber felled from a beech hedge (see the end of the 2002 report), collects grass cuttings and leaves during one year for fertilisation the next, and often uses well honed manual tools, such as a sickle, rather than power tools. In autumn 2003 Tom decided to slow down (or at least his family decided for him) so we don't see him so often now. Thanks for all your help, Tom.
Edi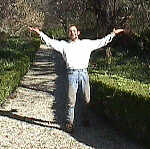 In spring 2002 Edi came from Austria to work and learn at Ballin Temple. His family also came and we even met a couple of visiting friends. We enjoyed having Edi, Karen, Philip, Guido and Simon here and thank them for their great contributions at Ballin Temple.
Edi is a skilled carpenter and put his skills to use in construction of a greenhouse which you see below. What a craftsman! You don't easily find that kind of work these days.
As well as being involved in most of our activities here, including organbic gardening, building and motor maintenance and construction of a greenhouse, they did some travelling around Ireland.
Thanks Edi ... you're amazing!
Once Upon A Time
For a record of people on the old estate see Morris Hope's artricle reproduced here.
A tribute to George Brown, friend
.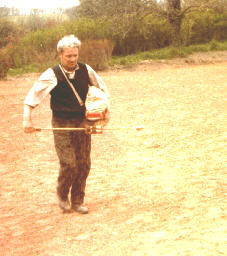 Sowing the lawn in the walled garden, 1973,
and giving a demo in his eightieth year...